Rock Solid Backpackers on 1140 Hinemoa Steet in Rotorua is a clean, comfortable and modern hostel accommodating up to 84 people. The large building was originally built for Inland Revenue offices and has alot of space. Groups can choose to book 1 or 2 of our levels or the entire hostel. We offer 4,6,8 bed dorms, private and family bedrooms. We offer unlimited free wifi, sheets, towels on request and free use of laundry facilities. We have a fully equipped kitchen for self-catering with an oven and hobs, crockery and utensils and a large dining area. Enjoy our laid back communal lounge with TV and DVD and we also have a conference room and storage for bikes. View an indoor climbing wall while relaxing in our social area. Rock Solid has won many national awards and is very highly rated by our guests. Contact us for our affordable group rates and let us make your groups' experience in Rotorua a good one!
Karlee Davies – phone: +64 7 282 2053
groups@rocksolidrotorua.co.nz
Visit Rock Solid Backpackers Website
TESTIMONIALS
I recently stayed here for 5 days with my group of over 80 people. We were more than pleased with the facilities, service, location, and most of all price. There was a games room that kept our children entertained for hours, a well fitted out kitchen, and clean dorm rooms. We never had any problems finding parking given that it was a long weekend. The only thing I would suggest is getting the elevator fixed. Other than that…a great place to stay!!
Hohepa Tamehana – April 2018
Our group had a great stay and we will definitely be back again – Rock Solid is fantastic for groups, having all the desired facilities and being located in the middle of town is just an added bonus!
Amanda Holmes – Absolute Aotearoa Limited, January 2018
You have great facilities and your city is mean, thank for your hospitality great team of people at Rock Solid Backpackers.
Sam Pullen – September 2017
I have recently booked a School music group from Brisbane into your complex. The group consisted of 84 students and 18 teacher/parents. They booked out the entire complex and what a time they had. The feedback we had from all was that this three night stay was one of the tour highlights. Having use of all the facilities worked well. All there self-catering was on site which was a big help to their budget. After a full day of sightseeing to return to a place that was 'their own' and had no worries with any other quests was ideal. We are looking forward to booking another group with you so they too can have this experience. Thank you for all your valued help.
Simon Hocking – Personal Travel Manager House of Travel Tauranga
Specialising in music tours – September 2017
What are the rooms like?
With a maximum capacity of 90 guests, Rock Solid Backpackers is a large backpackers and great place to meet travelers. Our room types are:
4 bed dorm
6 bed dorm
8 bed dorm
Family room
Private double room (shared facilities)
Private twin room (shared facilities)
Private double room (ensuite)
Private twin room (ensuite)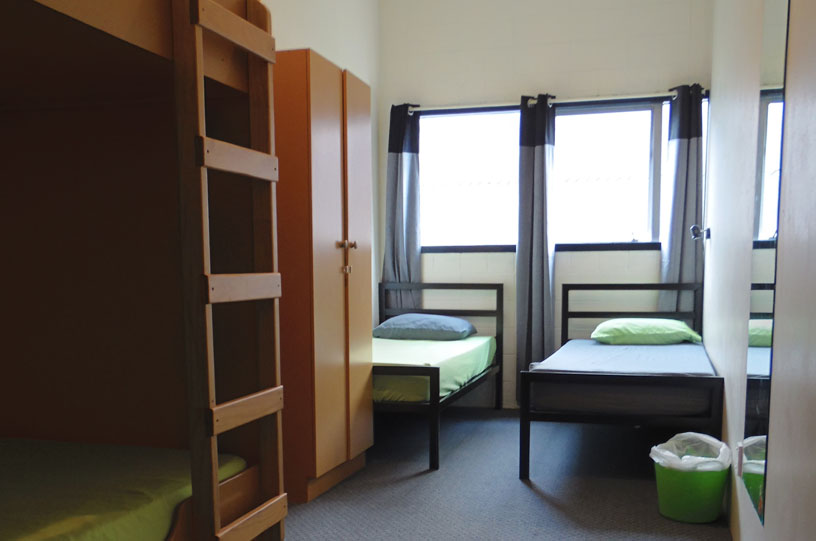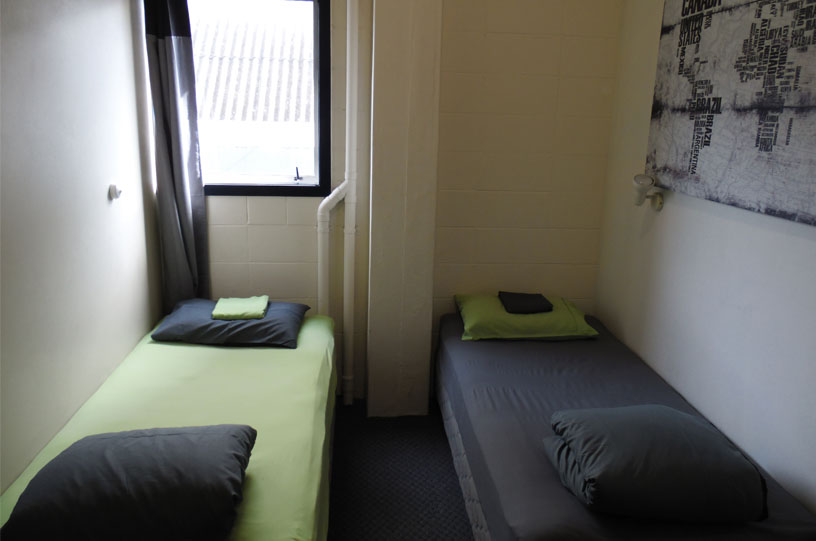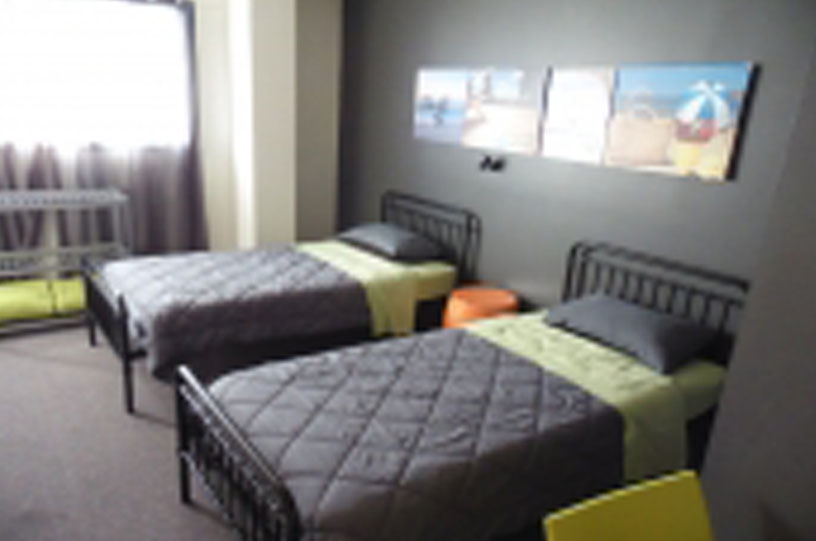 (close)
Hostel amenities
Along with bathrooms and common room – these are the other amenities and features of Rock Solid Backpackers. If you have any questions please contact us.
| | |
| --- | --- |
| | Parking – car and bus parks are available at the Polynesian Spa, 2 minute walk from the hostel, no charge. |
| | Smoking – Our hostel is smoke-free. |
| | Kitchen – large, fully equipped communal kitchen for your self-service. |
| | Laundry – laundry rooms and drying on-site. |
| | Storage – storage available for bikes and luggage. |
| | Access – wheelchair access is throughout the hostel. |
| | Conference rooms – we have a conference room available. |
Hostel location
Rock Solid Backpackers is located at 1140 Hinemoa St, Rotorua 3010.With this central location, you are within walking distance of many great spots.
Within 5 minutes of walking:
Polynesian Spa
Pak'nSave Supermarket
Coffee Shops
ATM machines
Post Office
Tours & Activities pick up point
Within 15 minutes of walking:
I-Site
Lake Front
Library
Central Mall Shopping Centre
Eat Street
Frequently Asked Questions
Yes! WIFI is free and unlimited!!!!! It is available throughout the building and bedrooms. We also have guests computers for your group to use free any time.
Are there laundry facilities?
Yes we have commercial machines, free to use for all our groups. If our staff have time they are happy to help get your loads done.
We have a restaurant in town that can cater for your group.
They serve a range of Street style foods most with Vege/Vegan options included
Current Group Options are:
$12.50 All combos – these are either Burger/Fish/Pizzas & Hotdogs all served with fries
$15.00 All combos with a Non-Alcohic Drink incl Dumplings (Pork or Vege)
All Tour Drivers eat and drink for Free up to the cost of $50 – this credit is useable each time they visit Rotorua.
Other options are available, please contact us.
What time of day can we arrive and when do we need to check out?
Welcome to arrive any time from 8am, rooms may not be ready until midday, check out time is 10am
We have bike storage and room for general storage
Do you have a conference room?
Yes we have a private room that can be used as a conference room
Yes we can provide towels for your group at no extra charge
If you have signed a contract payment is due 20 th of the following month. If you are a one-time visit we require 50% deposit 30 days prior to arrival, the balance due on arrival. Please note if you cancel the booking within 30 days of arrival we will refund you 80%, if you cancel during your stay, no refund.
If we book a dormitory do we have to share with other guests?
No, we can block out the other beds left empty if you request.
Can we have gender separated rooms?
Yes, we can configure the rooms so female and male are separated.
Do your kitchens have ovens and freezers?
Yes, we have ovens and freezers and we have plenty of large pots, pans, plates and cutlery etc
Do you have a health and safety plan?
Yes we do and all our staff are trained on fire drills