Manor House and Tonkinson House in Dunedin are two lovely adjacent 1920's colonial New Zealand homes perfectly set up for groups. Located at 28 Manor Place, together both houses can accomodate up to 60 people. Our bedrooms consist of 4,5,6,8,9,12 bed dorm's, private double bedrooms and twin rooms. Our kitchens are equipped for self catering with ovens and hobs, freezer, crockery and utensils. We have a dining area with a communal lounge with TV and DVD. Clean and comfortable we provide unlimited wifi, sheets, towels on request, free laundry facilities and a garage for storage. Enjoy our BBQ facilities in the lovely laid back garden. Tonkinson House has just under gone a major bathroom upgrade and we look forward to sharing the new facilities with our groups. Contact us for our budget friendly group rates and let us make your groups' experience in Dunedin a good one!
Ben Luke
mail@manorhousebackpackers.co.nz
Phone +6434770484
Testimonials
'We were very happy with the accommodation thank you. Manor House was very hospitable and comfortable and the students really enjoyed their stay. We hugely appreciated the washing being done and the free wifi certainly helped to entertain the students. Fridge space was ample. We would certainly stay again for future tournaments.'
Mt Hutt college, 2015
'On behalf of the St Kevin's College Women's Football team we would like to express our thanks for the great stay. Marvelous hosts and charming buildings. We really enjoyed our time here.'
St Kevin's College, 2014
'Thank you very much for hosting Christchurch Boys' High School staff and students last week. This is our second year with you during the Otago University Open Day and you have been excellent to work with thank you. I know the staff and students on the trip were very happy with their accommodation.'
Christchurch Boys' High School, 2015
'We really appreciated the warm and friendly welcome we had from your staff. They were very helpful thank you. The accommodation was very good with big dorm rooms and comfortable beds'.
Kind Regards Hayley Ambler – St Kevins College 2016
'We had a large group from Wanaka stay at Manor House Backpackers. It was exactly what we needed. The property was clean and in a great location. Carolyn was so helpful and communication was great. Highly recommend!'
Jade, Sticks and Stones Group 2017
Visit Manor House Backpackers Website
What are the rooms like?
With a maximum capacity of 67 guests, Manor House Backpackers is a large backpackers and great place to meet travelers. Our room types are:
4 bed dorm
5 bed dorm
6 bed dorm
8 bed dorm
9 bed dorm
12 bed dorm
Private double room
Private triple room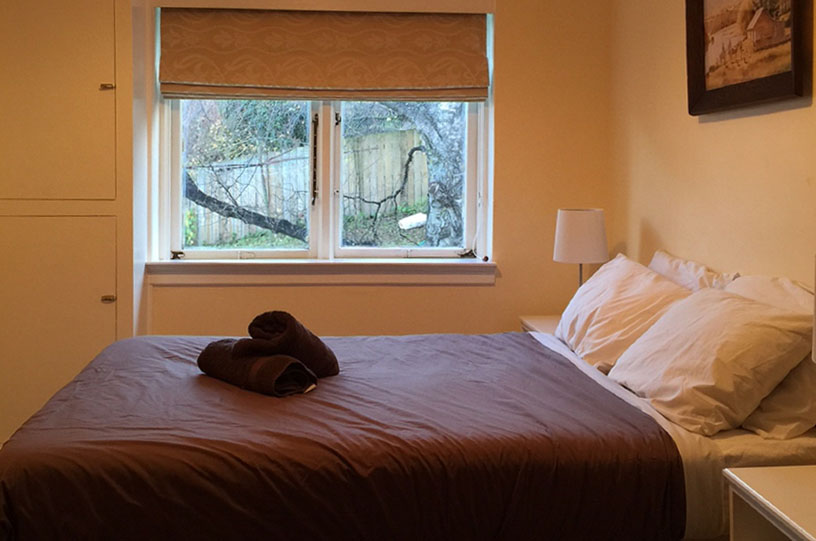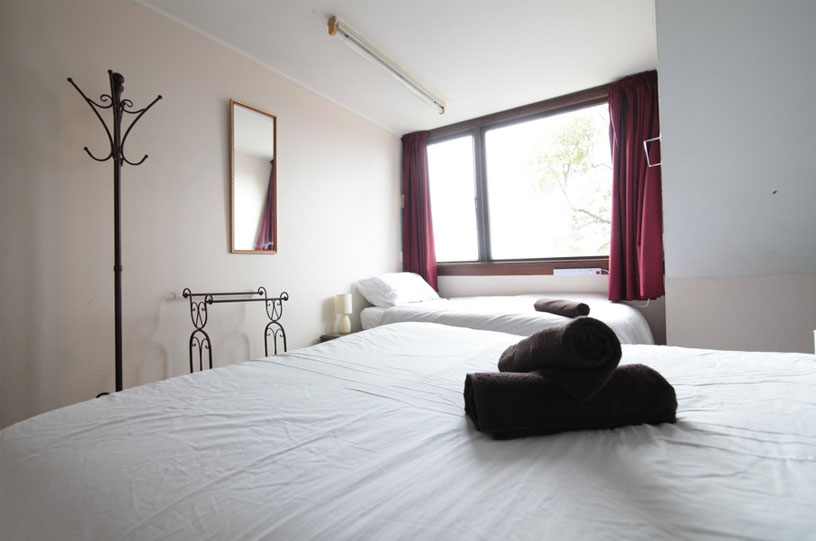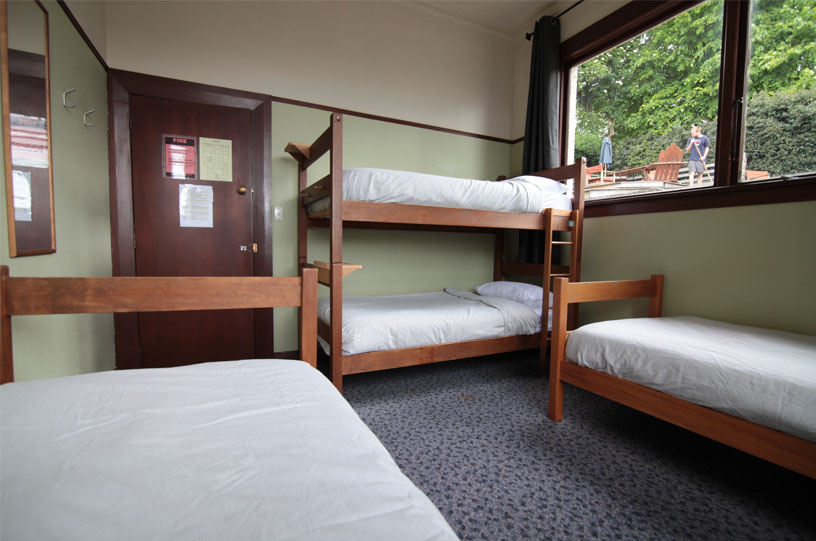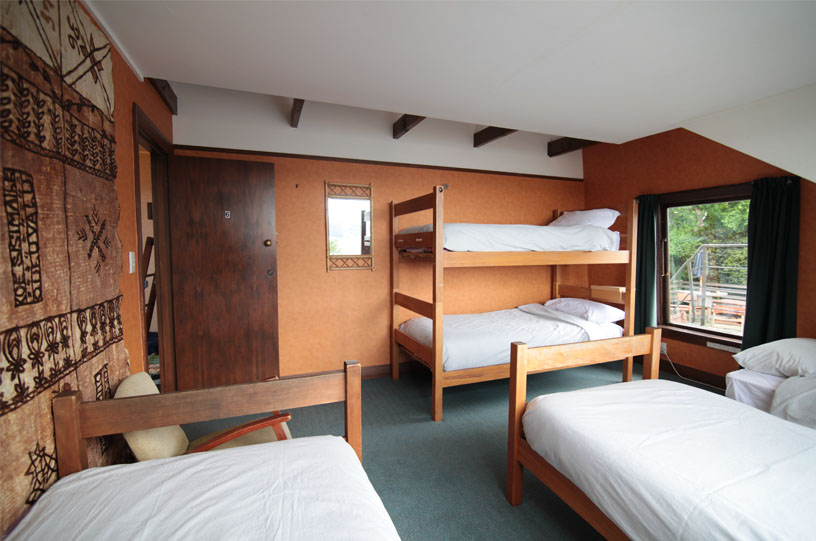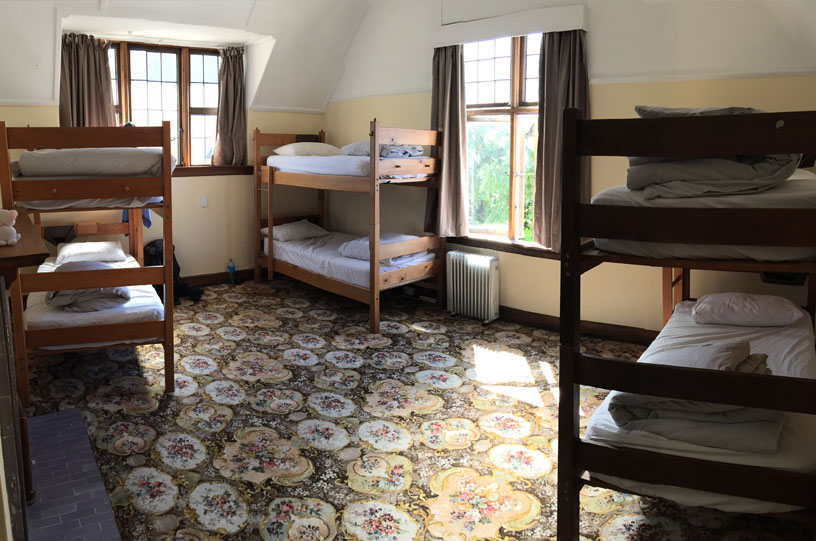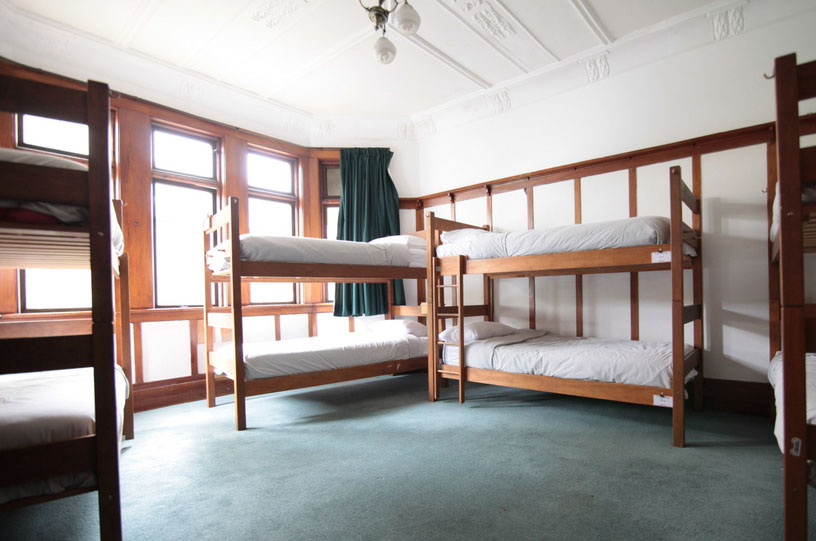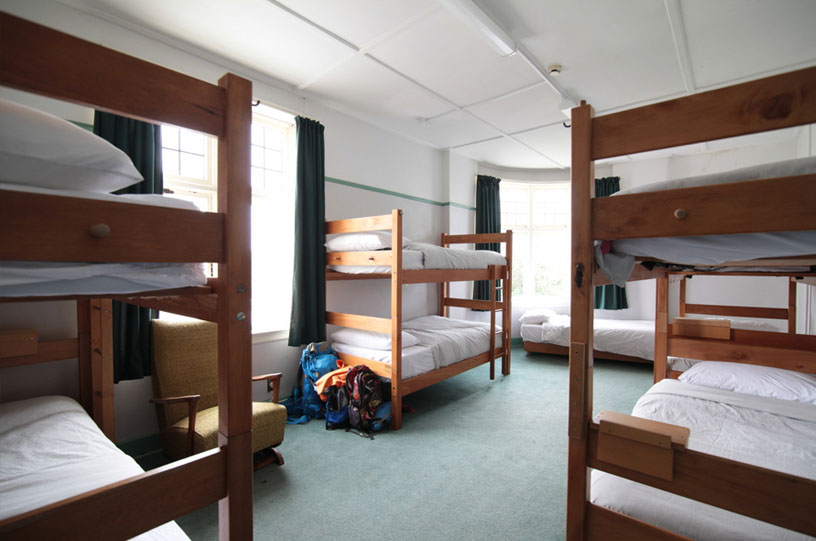 (close)
Hostel amenities
Along with bathrooms and common room – these are the other amenities and features of Manor House Backpackers. If you have any questions, let us know.
Parking – car parks are available at the back of the hostel or outside on the street, bus's need to park on the road, no charge.
Smoking – rooms are smoke-free, you can smoke outside on the balcony or courtyard.
Kitchen – Fully equipped communal kitchen for your self-service.
Laundry – laundry rooms and drying on-site. Our staff can help with your loads if they have time.
Storage – storage available in the garage for luggage and bikes.
Internet – free unlimited WiFi is available throughout the hostel and computers in the common room.
Hostel location

Manor House Backpackers is located at 28 Manor Pl, Dunedin, 9016.With this central location, you are within walking distance of many great spots.
Within 5 minutes of walking:
Wolf at the Door Cafe
The Bus Stop on Princess Street
Toffs Second hand Clothing
Rebel Sport
Vanguard Coffee Co
Within 15 minutes of walking:
The Dunedin Railway Station
Toitu Otago Settlers Museum
The Octagon & I-Site
Realto Cinema in Moray Place
Pak'nSave South Dunedin
Frequently Asked Questions
Yes! WIFI is free and unlimited!!!!! It is available throughout the building and bedrooms. We also have guests
computers for your group to use free any time.
Are there laundry facilities?
Yes we have commercial machines, free to use for all our groups. Our staff can help with your loads if they have time.
What time of day can we arrive and when do we need to check out?
Welcome to arrive any time from 8am, rooms may not be ready until midday, check out time is 10am
We have a garage so this can be used for bike of luggage storage
Do you have a conference room?
Yes can provide towels for your group at no extra charge
If you have signed a contract payment is due 20 th of the following month. If you are a one-time visit we require 50% deposit 30 days prior to arrival, the balance due on arrival. Please note if you cancel the booking within 30 days of arrival we will refund you 80%, if you cancel during your stay, no refund.
If we book a dormitory do we have to share with other guests?
No, we can block out the other beds left empty if you request.
Can we have gender separated rooms?
Yes, we can configure the rooms so female and male are separated.
Do your kitchens have ovens and freezers?
Yes, we have ovens and freezers and we have plenty of large pots, pans, plates and cutlery etc
Do you have a health and safety plan?
Yes we do and all our staff are trained on fire drills