Dusky Lodge & Backpackers is the largest group hostel in Kaikoura accommodating up to 140 people. Located on 67 Beach Road, Dusky Lodge is well equipped for our larger groups that visit us throughout the year. A popular, clean laid-back lodge with a choice of 4,6,8,10 bed bunk rooms, double, twin, triple bedrooms, en-suite private bathrooms and family rooms. Dusky Lodge has a Dining Area, Communal Lounge with TV and DVD. We have 3 large kitchen's fully equipped for self catering with ovens, gas hobs and freezers and BBQ's on the decks. We offer unlimited free wifi, sheets, towels on request, free off street parking and a complimentary laundry service. Our outdoor heated swimming pool and spa is open in the summer and together with the poolside cafe gives Dusky Lodge the resort feel it is renowned for. We can cater for breakfast, lunch or dinner requests. Contact us for our budget friendly group rates and let us make your groups' experience in Kaikoura a good one!
Claire Roberts
claire@duskylodgebackpackers.co.nz
Phone +6433195959
TESTIMONIALS
Dusky Lodge is a very cozy hostel, with everything you need plus pool and spa. On top of that, the view is amazing and so is the staff.
Camilla Breindahl – Pan Pacific Travel, 2017
The Students all had a great time staying at Dusky Lodge and enjoyed interacting with the other guests.  We have recommended other schools book in and stay at Dusky Lodge.
Nick Moyle – HOD Tourism, Cashmere High School, 2017
Wonderful staff, always friendly and accommodating for Haka Tour groups!  Thanks to Claire and the team for always being patient with our constant presence during a usually busy summer period.  The rooms are always clean and super comfy now with the soft refurbishments, I've seen great improvements over the past two years – keep up the good work.  Dusky is a great place to stay in Kaikoura!
Willow – Tour manager for Haka Tours, 2017
Visit Dusky Lodge Backpackers Website
What are the rooms like?
With a maximum capacity of 140 guests, Dusky Lodge Backpackers is a large backpackers and great place to meet travelers. Our room types are:
4 bed dorm
6 bed dorm
8 bed dorm
10 bed dorm
12 bed dorm
Twin room
Private room (shared facilities)
Private double (ensuite)
Private twin (ensuite)
Private triple (ensuite)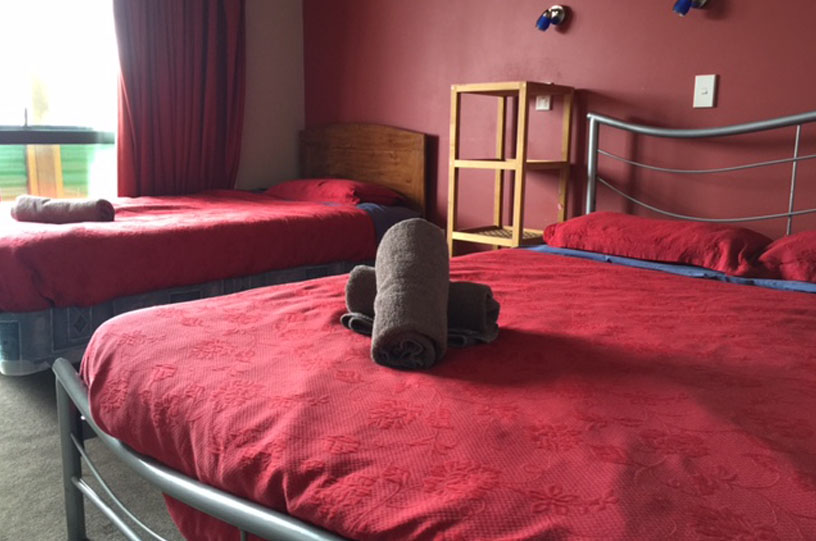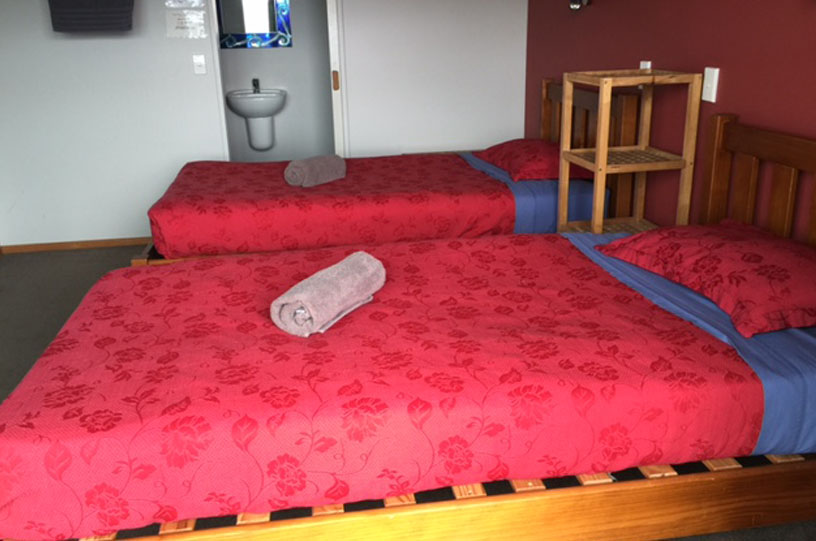 (close)
Hostel amenities
Along with bathrooms and common room – these are the other amenities and features of Dusky Lodge Backpackers. If you have any questions please contact us.
Parking – car and bus parks are available in front or at the back of the hostel, no charge.
Smoking – The hostel is smoke-free.
Kitchen – large, fully equipped communal kitchen for your self-service.
Laundry – laundry rooms and drying on-site our staff can help with the loads if they have time.
Storage – storage available for luggage and a small secure bike shed.
Internet – free unlimited WiFi is available throughout the hostel and computers in the common room.
Swimming pool – we have a large outdoor salt water pool and spa pool. (CLOSED DUE TO EARTHQUAKE REPAIRS due to reopen in December)
Hostel location

Dusky Lodge Backpackers is located at 67 Beach Rd, Kaikoura 7300. With this central location, you are within walking distance of many great spots.
Within 5 minutes of walking:
Beach access
Mini Golf
Emporium Brewing
Take Away / Eat in food
New World Supermarket
Within 15 minutes of walking:
Whale Watch Kaikoura
I-Site
Bean Me Up Coffee Cart
Whaler & Grouper Pubs
Post Office (Paper Plus)
Frequently Asked Questions
Yes! WIFI is free and unlimited!!!!! It is available throughout the building and bedrooms. We also have guests computers for your group to use free any time.
Are there laundry facilities?
Yes we have commercial machines, free to use for all our groups, if the staff have time they can help with the loads.
Yes. We have a commercial kitchen and a chef that can cater for your needs at our pool side café during the summer. In the winter we can organise our local restaurant to cater.
What time of day can we arrive and when do we need to check out?
Welcome to arrive any time from 8am, rooms may not be ready until midday, check out time is 10am
We have a small bike shed and general storage.
Do you have a conference room?
No, however our group kitchen is large and can be used for meetings etc.
Yes can provide towels for your group at no extra charge
If you have signed a contract payment is due 20 th of the following month. If you are a one-time visit we require 50% deposit 30 days prior to arrival, the balance due on arrival. Please note if you cancel the booking within 30 days of arrival we will refund you 80%, if you cancel during your stay, no refund.
If we book a dormitory do we have to share with other guests?
No, we can block out the other beds left empty if you request.
Can we have gender separated rooms?
Yes, we can configure the rooms so female and male are separated.
Do your kitchens have ovens and freezers?
Yes, we have ovens and freezers and we have plenty of large pots, pans, plates and cutlery etc
Do you have a health and safety plan?
Yes we do and all our staff are trained on fire drills